Tag: "Conference"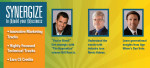 Retirement professionals gather with industry experts and leaders in Chicago to discuss the state of the business, major industry trends, and the impact of new legislation and regulations on the 403(b) and 457(b) plans marketplace.

View Post
The Great Lakes Benefits Conference is a forum to discuss employee benefit issues with colleagues, government representatives and private sector experts. The program will focus on exchanging information and educating attendees about current regulatory, legislative, administrative and actuarial topics.

View Post
The ERPA Conference focuses on issues facing Enrolled Retirement Plan Agents (ERPAs) in the retirement plan industry. The program will feature a legislative and regulatory update covering the latest policy and compliance issues, as well as guidance on Internal Revenue Service (IRS) processes and best practices.

View Post
The ACOPA Advanced Actuarial Conference is a forum focused on issues facing actuaries in the pension marketplace. The program will feature a legislative and regulatory update as well as several sessions on specific, practical approaches to issues including cash balance plans and key compliance issues. An open-forum session will also allow attendees to present and discuss questions with leading industry experts.

View Post
The Mid-Atlantic Benefits Conference, co-sponsored by ASPPA and the Internal Revenue Service (IRS), is a forum covering various topics in retirement planning. The program includes an update on current legislative and regulatory initiatives, as well as guidance on issues in plan administration, compliance, and new practice trends. The conference will also feature sessions covering recent developments in fee disclosure and the state of tax reform.

View Post
The Benefits Conference of the South, sponsored by ASPPA is a forum for in-depth discussion on the state of pensions, employee benefits, and retirement planning. A diverse group of retirement plan professionals—including accountants, actuaries, attorneys, plan administrators and Third Party Administrators (TPAs)—join industry experts and regulatory officials to discuss the latest legislative and regulatory activity, as well as industry and practice trends.

View Post
The American Society of Pension Professionals & Actuaries (ASPPA) today announced the team of Fiduciary Consulting Group @ PSA from Hunt Valley, Md., received the 2013 401(k) Advisor Leadership Award. Jania Stout, Retirement Plans Practice Leader at PSA received the award on behalf of the team during a session of the 12th annual ASPPA/NAPA 401(k) SUMMIT in Las Vegas.

View Post
The NAPA/ASPPA 401(k) SUMMIT is a national forum for professionals in the 401(k) marketplace. More than 1,200 retirement plan practitioners join experts and business leaders to discuss major trends, best practices, and legislative and regulatory activity that impact the industry.

View Post
Retirement professionals and government officials meet to discuss regulatory, legislative, and administrative issues in the retirement arena. Participants include accountants, attorneys, actuaries, benefits & HR directors, investment professionals, and third party administrators.

View Post
"Mind your Ps and Qs" is a favorite aphorism of every parent. As we go through life, we have picked up others: "look both ways before crossing the street," "measure twice cut once," "pay me now or pay me later," and "an ounce of prevention is a pound of cure."

View Post