Tag: "401(k)"
The Great Lakes Benefits Conference is a forum to discuss employee benefit issues with colleagues, government representatives and private sector experts. The program will focus on exchanging information and educating attendees about current regulatory, legislative, administrative and actuarial topics.

View Post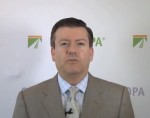 (May 2, 2013)—ASPPA CEO Brian Graff explains how the upcoming debt ceiling deadline and the impending retirement of Sen. Max Baucus (D-MT) could trigger the full bore tax reform effort for which the industry has been bracing.

View Post
The "Save My 401k" campaign developed by ASPPA and Beekeeper Group has won a Bronze Telly Award for recognition as industry leaders in media innovation. The judging committee has placed the animation in the upper echelon of nearly 12,000 submissions, covering a wide range of advertising agencies, television stations, and corporate video departments from around the world.

View Post
ASPPA's Brian Graff responds to the PBS Frontline's 'The Retirement Gamble' program touted to be an 'eye opening investigation of a financial services industry that may be draining your retirement savings with every passing year.'

View Post
ASPPA CEO Brian H. Graff, comments on a provision in the proposed Marketplace Fairness Act that would harm retirement plans.

View Post
Brian H. Graff, CEO of ASPPA talks about new research estimates that show retirement tax incentives benefit American workers.

View Post
In the cover story of Plan Consultant magazine, Cleo Chang, managing director and head of Wilshire
Funds Management's Investment Research Group, discusses recent developments in Baby Boomers' retirement-preparedness strategies and how their actions will impact the economy.

View Post
ASPPA joins the Coalition to Protect Retirement in support of the bipartisan Sense of the Congress resolution to maintain current incentives for retirement savings.

View Post
"We were very concerned when last year's budget included a double tax on contributions to 401(k) plans. Small business owners earning over $250,000 would have to pay tax on contributions in the year the contributions are made then pay tax at the full rate when contributions are distributed at retirement. We were hoping this misguided proposal would be eliminated in this year's budget, but instead the Administration has kept the double tax proposal, and added another penalty for retirement savings.

View Post
ASPPA CEO Brian Graff responds to a proposed savings cap in President Obama's budget set to be released next week.

View Post