Tag: "403b Advisor Magazine"
403(b) Advisor's feature story "Retiring in a Boom Market," reviews the "recency effect" and its implications in the average pre-retiree's decision about when to leave the workforce.

View Post
The theme of the winter edition of 403(b) Advisor is this: It's no longer sufficient for a successful 403(b) advisor to be simply a purveyor of retirement products. Or even just an expert on investments and financial markets. In order to cut through the clutter of financial advice that comes at us from the media, both mass and social, he or she must go into some unfamiliar, even surprising territory.

View Post
Particularly risky behavior performed by professionals is often accompanied by the warning: Do not attempt to try this at home. Unfortunately, that warning no longer applies to those of us who have to face longevity risk.

View Post
At the last NTSAA 403(b) Summit in Las Vegas, one of the speakers put me on the spot. When I couldn't come up with the answer he was looking for, he jokingly told me not to go into sales. "I'm sorry," he apologized afterward, "I was just messing with you." No apologies necessary. He was right.

View Post
If you read nothing else in the spring issue of 403(b) Advisor, I urge you to take a look at Neil Wernick's "Philadelphia Story" on page 24. It serves as a model for how NTSAA and ASPPA operate in protecting the legitimate interests of advisors in the 403(b) marketplace.

View Post
Last summer I was invited to a company sales congress. Advisors from the local region, of all ages and levels of experience, gathered for two-and-a-half days of speakers and seminars, networking and golf. The conference was very efficient and highly informative, with about the standard level of technology..

View Post
Retirement professionals gather with industry experts and business leaders in Las Vegas at the NTSAA 403(b) Advisor Summit to discuss the state of the business, major industry trends, and the impact of new legislation and regulations on the 403(b) and 457(b) plans marketplace.

View Post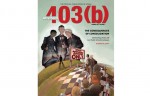 In this month's 403(b) Advisor cover story, ASPPA CEO Brian Graff uncovers how school systems and state education departments all over the country are consolidating their 403(b) plans. They want to save their teachers from what somebody has told them is a bewildering array of choices by reducing or eliminating choice altogether…

View Post

Two teachers entered the profession at the same time. Sarah taught English. Her academic record, which had been stellar all through high school and university, had gotten her hired. She was studious, soft-spoken and earnest. She lasted one year…

View Post
The National Tax Sheltered Accounts Association and ASPPA launch "403(b) Advisor," a magazine written by and for 403(b) and 457 plan professionals, during the NTSAA annual conference in Orlando, Florida.

View Post