Tag: "Brian Graff"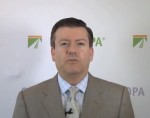 (May 2, 2013)—ASPPA CEO Brian Graff explains how the upcoming debt ceiling deadline and the impending retirement of Sen. Max Baucus (D-MT) could trigger the full bore tax reform effort for which the industry has been bracing.

View Post
The "Save My 401k" campaign developed by ASPPA and Beekeeper Group has won a Bronze Telly Award for recognition as industry leaders in media innovation. The judging committee has placed the animation in the upper echelon of nearly 12,000 submissions, covering a wide range of advertising agencies, television stations, and corporate video departments from around the world.

View Post
ASPPA's Brian Graff responds to the PBS Frontline's 'The Retirement Gamble' program touted to be an 'eye opening investigation of a financial services industry that may be draining your retirement savings with every passing year.'

View Post
ASPPA CEO Brian H. Graff, comments on a provision in the proposed Marketplace Fairness Act that would harm retirement plans.

View Post
Brian H. Graff, CEO of ASPPA talks about new research estimates that show retirement tax incentives benefit American workers.

View Post
ASPPA CEO Brian Graff slams two provisions in the President's FY 2014 budget proposal. The first of these two "retirement plan clunkers" in the budget would result in double taxation of 401(k) plan contributions. The second "clunker" is the new $3 million lifetime aggregate cap on DC plans and IRAs.

View Post
"We were very concerned when last year's budget included a double tax on contributions to 401(k) plans. Small business owners earning over $250,000 would have to pay tax on contributions in the year the contributions are made then pay tax at the full rate when contributions are distributed at retirement. We were hoping this misguided proposal would be eliminated in this year's budget, but instead the Administration has kept the double tax proposal, and added another penalty for retirement savings.

View Post
ASPPA CEO Brian Graff responds to a proposed savings cap in President Obama's budget set to be released next week.

View Post
Brian Graff, Executive Director/CEO of ASPPA and NAPA, joined a high-level Congressional staffer to discuss tax reform, the definition of fiduciary regulation and the Harkin proposal.

View Post
"Are 401(k) Plans a Failed Experiment"—if there was ever a headline that should get the attention of all of us working in the retirement plan industry this is it. Unfortunately, we have had to read far too many articles and commentaries on why our current 401(k) plan structure is failing to ensure an adequate retirement for the majority of working persons in America.

View Post