Tag: "DOL"
ASPPA to host its 47th annual conference—where more than 1,500 retirement plan professionals engage with government officials and their colleagues on retirement issues including—fee disclosure, fiduciary status, electronic disclosure and tax reform.

View Post
ASPPA's response to a proposed rule requiring that a participant's accrued benefit in a defined contribution plan be expressed on a benefit statement as an estimated lifetime stream of payments.

View Post
ASPPA has requested modification of Schedule C of Form 5500 to better apply new disclosure requirements while improving consistency in the reporting of indirect compensation.

View Post
Experts from the Internal Revenue Service (IRS) and the U.S. Department of Labor (DOL) joined Enrolled Retirement Plan Agents (ERPAs) from around the country recently in Denver, Colorado. The ERPA designation is for retirement plan professionals who practice before the IRS.

View Post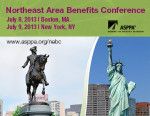 The Northeast Area Benefits Conference is a one-day, two-city conference focused on employee benefits and pensions. A diverse group of retirement plan professionals join industry experts and regulatory officials to discuss the latest legislative and regulatory activity, as well as industry and practice trends.

View Post
The Great Lakes Benefits Conference is a forum to discuss employee benefit issues with colleagues, government representatives and private sector experts. The program will focus on exchanging information and educating attendees about current regulatory, legislative, administrative and actuarial topics.

View Post
Both Fred Reish, of Drinker Biddle & Reath LLP, and Sam Brandwein, of Morgan Stanley, gave their views on compliance issues following the initial 408(b)(2) fee disclosure effective date July 1, 2012 at the "Life After Fee Disclosure" workshop at the 2013 NAPA/ASPPA 401(k) SUMMIT.

View Post
The following is a statement from Craig P. Hoffman, General Counsel and Director of Regulatory Affairs of ASPPA to the U.S. Department of Labor (DOL) and the Internal Revenue Service (IRS) requesting clarification and transitional relief for filling of Forms 5500 and 8955-SSA for multiple employer plans obligated to report under both the ERISA and the Internal Revenue Code (IRC).

View Post
While the winds from hurricane Sandy swirled outside, members of the American Society of Pension Professionals & Actuaries (ASPPA) met at National Harbor for their annual conference. Monday's sessions began with the annual update on regulation, legislation and guidance changes, as well as a look at litigation involving employee benefit plans from the past year…

View Post
September 19, 2012 — ASPPA's General Counsel and Director of Regulatory Affairs, Craig Hoffman, discusses FAQ # 39 from the Department of Labor's (DOL) recently released Field Assistance Bulletin 2012-02R…

View Post