Tag: "ERPA"
Reaffirming the need for enrolled retirement plan agents (ERPAs), the third annual ERPA conference was held in Washington, D.C. on June 7 and 8. The conference, designed for ERPAs and by ERPAs, presented a lineup of industry experts that included practicing ERPAs as well as local, regional, and national government representatives from the Internal Revenue Service.

View Post
The ERPA Conference is a forum focused on issues facing Enrolled Retirement Plan Agents (ERPAs) in the pension plan industry.

View Post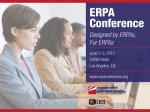 News from the Field 2011 ERPA Conference Los Angeles (June 2, 2011)—The American Institute of Retirement Education (AIRE)—a partnership of ASPPA and NIPA— hosted approximately 90 Enrolled Retirement Plan Agents (ERPAs) from all over the country at the second annual ERPA Conference, June 2-3, in Los Angeles. The conference was designed by ERPAs, for ERPAs, [...]

View Post
Ever since the Internal Revenue Service (IRS) announced it will require all paid tax preparers to register with the agency in March, the issue has become a hot topic for unenrolled tax professionals. The buzz over the new requirements attracted more than 220 retirement plan professionals to ASPPA's live webcast for specifics on how the new rules might impact their business.

View Post